"The ideal livery outlined below may possibly exist in a few cities or towns around the world, but I am yet to find a picture of that elusive vehicle"
---
Overview
Experience has shown that a number of organisational factors including tradition, cultural loyalties, differing points-of-view (and large project teams) usually delay or interfere in the construction of any ideal vehicle. It is a given outcome that not all the points raised in the specification below will finally make it onto any emerging vehicle design – but we can certainly strive to achieve it.
This specification is made up of guidelines that suit the Australian environment and these same guidelines may well work for emergency services in other parts of the world. Some regions where there are heavy snowfalls might opt for solid red fluorescent/reflective coloured panels or the emergency services in the UK will continue to use the latest battenburg pattern. Either way, the human visual recognition factors relating to visibility & conspicuity remain unchanged.
In general terms it is the cultural influences of each region or country that produce the variations in livery designs.
An example of cultural difference in livery signage is that the accepted symbol for ambulance organisations varies between countries. Some Australian states display the Maltese Cross while the other states don't. It is the Star of Life in the US, the Red Cross (Cruz Roja) in Spain or the Red Crescent as used in the Middle East.
Some examples
In Australia we continue to use white vehicles for valid reasons, despite the proven safety advantages of switching to yellow/green paint. The UK on the other hand has changed ambulances to RAL 1016 in recent years but Metropolitan Police cars are leased and are now purchased in silver to increase their resale value. Police organisations in the US are returning to the black & white livery. This is based not just on tradition, but on the belief that there is greater public recognition of the black & white police colours.
Please read the following guidelines. Consider the points made and their rationale. Think carefully the individual consequences in relation to your requirements. When you have finished go on to develop a vehicle livery that best suits your particular organisational needs.
As usual, any feedback on livery and markings are welcome.
What then would we include if we want to create the IDEAL emergency vehicle livery? Read on….
Outlined in detail below this point list are the livery and marking guidelines.
Yellow/green body colour

Fluorescent-reflective waistline and roofline banding

Peripheral reflective outline markings

Minimimal text markings using upper & lower Title Case

Design graphics and signage so they cover only a small percentage of the entire vehicle body
Note – Each of the vehicles in the pictures below

illustrate a single guideline only
and do not represent the complete ideal livery model
---
Vehicle body colour
1. A single unified yellow/green paint colour covering the entire emergency vehicle
2.

Painted in Imron Lime-Yellow, RAL 1016 or similar
High levels of colour brightness with increased reflectance values day and night

Peak colour sensitivity within human vision at approximately 555nm

Detected much earlier in the peripheral vision than other colours

Yellow/green is rare and is not naturally occurring, nor is it a common vehicle colour

Contrasts with both the urban and rural environments

Little change of yellow/green colour under all artificial lighting types

Excellent performance under most weather conditions and smoke

Proven in trials to assit in reducing the collision rate for emergency vehicles
---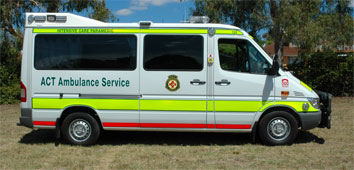 Waistline and roofline markings
1. Use yellow/green fluorescent retro-reflective prismatic films if possible
2. A single uninterrupted horizontal band of fluorescent reflective yellow/green material >250mm wide running full length of the vehicle waistline, crossing the rear doors and the top front of the bonnet (hood)
3. Roofline band of matching material around sides rear and front of vehicle (if required)
Increased conspicuity during twilight and darkness.

Band of colour is

almost invisible

against the yellow-green paint during peak daylight hours – it does not corrupt the yellow/green body colour & shape.

At dawn and dusk atmospheric UV induces fluorescence delivering increased band brightness in the twilight hours.

During darkness and under headlamp illumination the band has high levels of reflectivity that indicate the visual length and width of the vehicle. This is especially important when nosing into and crossing intersections or under the bright glare of warning lights at nightime incident scenes.

Visible at drivers' eyesight level through vehicle windows when approaching other cars or drawing alongside.

Roofline stripe is visible over other cars in heavy traffic.

Absence of complex pattern brings a reduction in recognition and reaction times.
---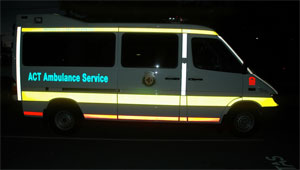 Peripheral outline stripes
1. Use yellow/green fluorescent retro-reflective film to match paint colour.
2. A closed circuit of horizontal and vertical fluorescent-reflective tape outlining the edges of the vehicle and tape should be visible from each of the four vehicle directions
Outlines the vehicle size, shape and orientation when illuminated by headlights at night.

Yellow/green colour is almost invisible against yellow-green paintwork during daylight – it does not corrupt the body colour and shape.

The stripes are fluorescent during twilight hours at dawn & dusk.

Important when multiple emergency vehicles are parked close to each other at an accident scene under random flashing warning lights, especially if parked vehicles overlap each other when viewed from different angles around the scene.

Assists other drivers to visualise each vehicles size and position amidst any glare from over-bright warning lights.
---
Text markings & badging
1. All text should be reflective.
2. Excessive lines of text break up the emergency vehicle's visual unity and profile.
3. Attempt to substitute smaller and simpler graphics for lines of text eg. apply State emblems or generic symbols.
4. All lettering should be in upper & lower Title Case using common non-serif fonts for faster reading speed and clarity.
5. As a rule, text and graphics can only be read when the vehicle is stationary or moving slowly.
6. The clearest colours for text are black, dark blue or green (dark green especially on yellow/green background).
7. The percentage of the vehicle surface area taken up by text should be carefully considered and kept to a minimum.
Reflective coloured text can be seen & read both day and night when suitable font sizes are applied.

Excessive lines of text and graphics are often visualised as pattern – so reduce text and graphics to a minimum.

Title Case used for text can be seen at longer distances and read faster than block capitals.

Simple graphics can be understood by children, adults and are multi-lingual.

Avoid upsizing badges and text – large sizes do not increase sign legibility or your corporate profile, they can however increase confusion and deconstruct the vehicle's shape and profile
---