SOME say red goes faster but if this is true it seems most Canberrans don't choose their car for speed.
ACT car owners prefer their vehicles to be white, though silver and blue vehicles are still popular choices in the territory.
Car registration statistics provided to the Sunday Canberra Times show that while there are 82,126 registered white cars there are just 27,752 coloured red.
And those who drive a mustard-colour car share their individual thinking with only 52 other motorists.
There are more than 1800 purple cars registered in Canberra and 256 vehicles are pink.
NRMA Insurance research manager Robert McDonald said motorists were now favouring light-coloured cars that provided better visibility.
"White is the new black," he said.
"You're even seeing white Ferraris, which is quite different to the norm."
Mr McDonald said research conducted by the organisation into the safest colour for visibility on the road found collisions were more likely to occur with dark coloured cars.
He said the safest colour choices were white, yellow and red.
Worst for visibility are dark greens and blues, which blend into the rural landscape around Canberra, and silver and grey, which get lost in the colour of the road.
He said motorists who drove darker cars should use their headlights as soon as dusk began and not wait until they could not see before they switched them on.
Today, emergency responders face more challenges than ever before. Cell phones, powerful car sound systems,
and new automotive PC technology increasingly distract motorists. More
than ever, public safety officers must
count on visual and audible warning systems to help
create a zone of safety around an emergency vehicle
seeking the right of way.
Note: This is an information only paper written by a commercial company – please refer to the original research cited within the document.
Not only do Queensland ambulances save lives,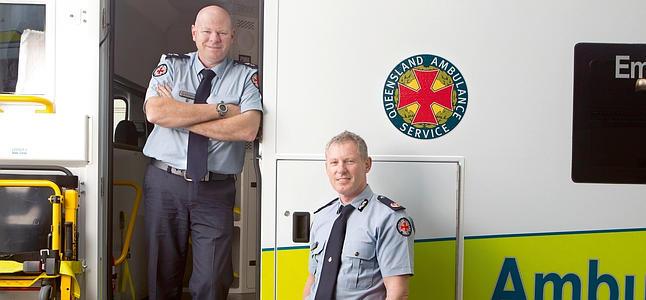 but thanks to innovative procurement and fleet management they are also resuscitating the local manufacturing industry
Ambulance fleet management is a complex and expensive challenge. It is critical to get it right when lives depend on the safety and reliability of the fleet. State and territory ambulance services collaborate with one another and with their common suppliers on fleet procurement and maintenance to reduce costs while maintaining the high standards required.
The average age for replacement of an ambulance is just under four years and the fleet is always being expanded so the demand pressures are great. A secure and sustainable supply chain is imperative. There are three main phases to this process: the acquisition of the base vehicles, the conversion of these base vehicles into ambulances, and vehicle maintenance.
The Financial Review, 14 October 2011
The 1970s gave a lot to the world, from the sublime to the ridiculous – and the fire service was no exception. It was during this decade that the logic behind the traditional color of fire trucks first began to be questioned by some.
Red, so the argument went, was not as visible as other colors.The color of choice for the forward-thinking and progressive? Lime-yellow.
Some departments made the break with tradition in the belief that a change in color scheme could improve the visibility of fire trucks, improving safety for civilians and firefighters alike.
The Pinellas Park, Fla., Fire Department was one of them. In 1972, it ordered its first lime-yellow truck. As older vehicles were phased out over the years that followed, they too were replaced with apparatus colored in the new style.
However, the department is now going back to its roots. The St. Petersburg Times
reported this week
that, with a request by the department for three new rescue units, a council member questioned Fire Chief Doug Lewis over the current color scheme.
Fire Rescue 1, article by Jamie Thompson, June 17 2010
Fire Rescue 1, article by Jamie Thompson, June 17 2010 –
Read the articles
Pink ambulance put into service to support Cancer Society
A new ambulance has been added to Ambulance, Inc. of Laurel County's stable – and it's pink. The ambulance is intended to show the company and its personnel's support of finding a cure for cancer. The white and mostly pink vehicle is intended to not only show support, but to raise funds for the American Cancer Society. Every time the vehicle is on a call, the ambulance service will donate $2 to the cancer society. Ambulance service chief Jimmy Bridges said Thursday it will be used in the rotation of the 13 ambulances used by the service on its nearly 9,000 annual ambulance runs.
The Times Tribune, Article by Carl Keith Greene, 29 January 2010.
Pint-size ambulance for New Years Eve in Sydney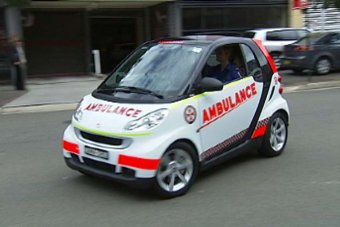 New Bariatric vehicle – latest addition to ACT Ambulance fleet
Uses

automated loading tynes with a hydraulic powered stretcher
The Minister for Police and Emergency Services, Simon Corbell, has today welcomed a new specialist vehicle to the ACT Ambulance fleet to transport obese patients.
"The new bariatric ambulance is a multifunctional vehicle that has the capability to transport a patient weighing up to 500 kilograms," Mr Corbell said. "The transportation of obese patients is an area of growing challenge for all ambulance services and health agencies around Australia. "This new vehicle is leading edge in design and has an automated loading system. It will improve patient care and safety as well as substantially reduce the manual handling involved with transporting patients with special needs." Canberra, Australia – 31 July 2009
The United States Fire Administration (USFA), in partnership with the International Fire Service Training Association (IFSTA), announces the release of the Emergency Vehicle Visibility and Conspicuity Study. The study report highlights the results of a U.S. Department of Justice – National Institute of Justice (NIJ) supported project intended to enhance emergency vehicle and roadway operations safety for firefighters, law enforcement officers, and other emergency responders. Emmitsburg, Maryland – 18 August 2009
Emergency vehicles get new look
American Ambulance touts safety in European-style design
New design improves ambulance visibility in Muskoka
Muskoka, Ontario – In the coming weeks, the public will see brighter, more visible markings on ambulance vehicles in Muskoka as part of a plan to improve visibility and recognition of emergency services vehicles and staff. Weekender – 1 May 2009
Province unveils high tech ambulance
Vehicles already in use in Australia & Europe
Wiinipeg, Ontario – The province unveiled one of its new high-tech ambulances at the legislature Tuesday and although it has yet to see action, paramedics are giving it a passing grade. After all, if it's good enough for Australia and Europe it should be good enough for the prairies. Winnipeg Free Press – 11 July 2009
A detailed PowerPoint PDF is available on the downloads page – CLICK HERE
RETTmobil 2009, Fulda, Germany
A flood of visitors attended the exhibition at Fulda-Galerie from Wednesday until Friday of this week, to which the organisers quickly and readily responded, a view that is shared by IKR Chairman Manfred Hommel and the vast majority of exhibitors. "Many of them have already booked for next year's RETTmobil 2010 among which some increased the size of their display areas substantially. Satisfied faces all over – exhibitors and visitors alike.
NC Paramedics get new muscle cars for transport
Raleigh, North Carolina – EMS Chief Skip Kirkwood said at a news conference Monday that the program is the first of its kind in the nation. The new advanced practice paramedics will be dispatched to treat the sickest patients and help prevent emergencies among high-risk groups such as the elderly through education and outreach. EMS1.com – 6 Jan 2009
Questions, comments and feedback are welcomed

Please select the

CONTACT

tab for details