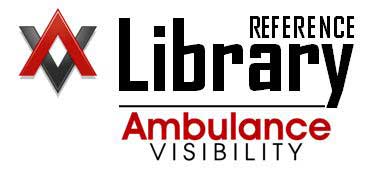 High Conspicuity Livery for Police Motorcycles*
Harrison, P – Home Office – Police Scientific Branch;2006
Enhancing motorcycle conspicuity – emergency response and roadside
Killeen, J. – Ambulance Visibility Blog – May 2010
Some factors affecting motorcyclist's conspicuity
Hole, G. Tyrrell, G. Langham, M. –

Ergonomics

, 39 (7): 946-965
Motorcycle conspicuity: The effects of age and vehicular daytime running lights
Police motorcyclists keen to be seen.
Teesdale Mercury article, 1 May 2008
Motorcycle accident cause factors and identification of countermeasures*
Hurt, H. Ouellet, J. Thom, D.
Enhancing motorcycle conspicuity awareness in Iowa
Gkritza, K. Zhang, W. Hans, Z. – September 2010
Evaluation of Motorcycle Conspicuity in a car DRL Environment
Cavello, P. and Pinto, M.
Motorcycle Crash Countermeasures
Horwath, N and Schulze, M. – MUARC May 1996
Prevention of motorcycle accidents at Junctions
Digest Paper – S, Prower – June 1997
The roles of motorcyclists and car drivers in conspicuity related motorcycle crashes
Dr. S. de Craen, dr. M. Doumen, N. Bos & dr. Y. van Norden
Motorcycle Conspicuity in Europe
Hardy, E – Right to Ride Ltd
A response to recent proposals for France and the EU relating to Motorcycle conspicuity
Motorcyclist's speed and "looked-but-failed-to-see" accidents
Nicolas Clabaux, Thierry Brenac, Christophe Perrin, JoГ«l Magnin, Bastien Canu, Pierre Van Elslande
Literature review of interventions to improve the conspicuity of motorcyclists and help avoid 'looked but failed to see' accidents
Helman, S. Weare, A. Palmer, M. and Fernandez-Medina, K.
Newspaper article: Why cycling in high-vis may be not as safe as you think
The effect of two novel lighting configurations on the conspicuity of motorcycles
S Helman, M Palmer, C Haines, C Reeves
Am I More Conspicuous with a Yellow Plexiglas Disc in Front of the Headlight?: A Study of Motorcyclists' Conspicuousness in Road Traffic
C Patten, H Wallen Warner, O Bagdadi – 2015 (Swedish & English)
Questions, comments and feedback are welcomed

Please select the

CONTACT

tab for details