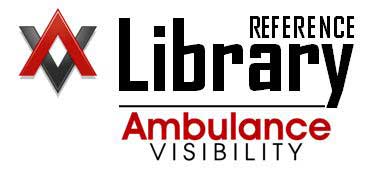 Amber and Steady-Burn Warning Lights
What's Flashing before your Eyes?
Roads and Bridges – July 2000
NCHRP Report 624, Selection and application of warning lights on roadway operations equipment*
Gibbons, lee, Williams & Miller – Transportation Research Board 2008
Improving the Ability of Drivers to Avoid Collisions with Snowploughs in Fog and Snow*
Yonas, A. Zimmerman, L. – University of Minnesota – July 2006
Rear Lighting Configurations for Winter Maintenance Vehicles
Bullough, J. Rea, M. Pysar, R. Nakhla, H. Amsler, D. – August 2001
Improved visibility for snowploughing operations
National Highway cooperative Research Program – November 2000
Emergency warning lights and parking procedures
Faugh, R – Fire Police website
Police Vehicles and Lights
Faugh, J. – January 2006 – Google Docs
Seeing the Light – the science of choosing proper emergency lighting for patrol cars*
Molnar, J. – Law Officer Magazine – March 2008
Solutions for safer traffic stops
Ashton, R. – Police Chief Magazine – July 2004
Color Identification in the Visual periphery:
Consequences of Color coding of vehicle signals
Sivak, M. Flannagan, M. Miyokawa, T. Traube, E. – UMTRI, July 1999
Florida Highway Patrol emergency lighting research and prototype evaluation*
Lieutenant James D Wells Jnr. 2004
Watch Out! A review of highway based incidents involving Fire and EMS personnel in 2000
Lighting on snowploughs:An accident countermeasure?
Bullough, J. -American Public Works Association
Efficacy of Rectangular-shaped Rapid Flash LED beacons
Houten, R. Malenfant, J. – 1.3Mb
Motor Vehicle Conspicuity – Warning Beacons*
48th GRE – April 2002 – PDF 322Kb
Let's/LED's go for quality
Enhanced aircraft conspicuity to reduce runway incursions
Gallagher, W. – USDOT – April 2007 – PDF 177Kb
Reactions to Emergency Light Colors
Karczewski, M – Police Fleet Manager – January 2002
How to safely use emergency lights
Yates, T – PoliceOne.com 2009
Warning Lights, Parking and Scene Safety PowerPoint*
Faugh, J – Warning –
Large file (10Mb)