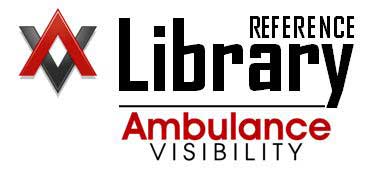 Fluorescent & Reflective Markings
3rd Annual EMS Safety Summit PowerPoint Presentation
John Killeen, Denver, Colorado,

October 2010

(PDF 2.67Mb)
Warning Lights, Parking and Scene Safety PowerPoint*
Faugh, J – Warning –
Large file (10Mb)
---
HEAVY VEHICLES – Contour markings
Effectivness of heavy vehicle conspicuity treatments under different weather conditions*
Hildebrand, D. Fullarton, P. – University of New Brunswick – 1997
Conspicuity markings requirements on heavy goods vehicles*
UK Freight Transport Association – Compliance guide
The effectiveness of Retroreflective tape on Heavy Trailers
Morgan, C – NHTSA, March 2001
Conspicuity of Heavy Goods Vehicles*
European Commission – December 2004
FMCSA's Conspicuity Requirements for Commercial Motor Vehicles
US Department of Transportation
Understanding Trailer visibility and conspicuity devices
Messerschmidt, W – Technical White Paper
UK Freight Transport Association – Compliance guide
UK Freight Transport Association – Compliance guide
The effectiveness of Retroreflective tape on Heavy Trailers
Morgan, C – NHTSA, March 2001
Conspicuity of Heavy Goods Vehicles*
European Commission – December 2004
Visibility and judgement in car/truck night accidents*
Ayres, TJ. Schmidt, RA. Steele, BD. Bayan, FP.
Document no longer available
Improving worker safety through better visibility*
Improving Road Safety by increasing truck visibility*
Heavy trucks, conspicuity treatment and the decline of collision risk in darkness
Sullivan, J. Flannagan M – UMTRI – September 2011
---
Materials for IR and visible material identification from surveillance aircraft
O'Keefe, E. – SPIE Newsroom, 17 April 2006
Thermal Roof Markings for Police vehicles*
Brooke, A. – UK Home Office, Police Scientific Development Branch – 2004
Remote ID – QinetiQ
---
Improving the ability of drivers to avoid collisions with snowploughs in fog and snow
Yonas, A. Zimmerman, L. – July 2006 – PDF
---
Emergency Vehicle Accidents – Prevention, reconstruction and survey of State law, 2nd Edition
Solomon, S. and Hill, P. – Google Books
CLICK HERE
Conspicuity –
Police Association of Ontario magazine
Middell, R. – Winter 2004
Document no longer available
Tips for improving ambulance vehicle visibility
Careless, J. EMS World, March 2010
Motor Vehicle Conspicuity – An assessment of the contribution of retroreflective and fluorescent materials*
Cook, S, Quigley, C. Clift, L. – October 1999
Conspicuity and retroreflective materials
Federal Highways Adminsitration Lecture
Fluorescent coloured stimuli automatically attract visual attention: An eye movement study*
Schieber, F. Schlorholz, B. Willan, N.
Use of fluorescent materials on traffic signs – guidelines (NZ)
Croft, P. – September 2001
On-Road investigations of fluorescent sign colors to improve consicuity
Tennessee Ad Hoc Committee on Ambulance Colors and Markings
Conspicuity and Readability
Signline Magazine, Issue 51, 2007
A computational vision model-based method to address work zone conspicuity
Barton, J. Cohn, T. Misener, J. – University of California – Berkeley
People vs Hudson (California)*
Quantifying the subjective brightness of retroreflective material using magnitude estimations
Graving, A. Tyrrel, R.Balk, S.
Visual detection of detectable warning materials by pedestrians with visual impairments*
Jenness, J. and Singer, J. – Federal Highway Administration 2006
Workshop on Night-time visibility of Traffic Signs – Powerpoint PDF
An Assessment of the Performance of retro-reflective Traffic Control Devices
Retroreflective Traffic Control Devices: Future Road Safety Infrastructure in India
Mohna, S. & Duuta, N. – National Engineering Conference on Roads
Retroreflective markings on Rail Cars
US DOT – Federal Railroads Administration
Performance analysis of squad car lighting, retroreflective markings and paint treatments to improve safety at roadside traffic stops*
Fischer, J. Kzmarzick, K. Menon, A. Shankwitz, C. – May 2012
Keeping officers safe on the road
Pearsall, B. – NIJ Journal No 265
Advances in retroreflective technologies for road signage, vehicle visbility and road markings, delivering safer roads for all
King, A. – 3M
Improving worker safety through better visibility*
Berces, A. – 3M