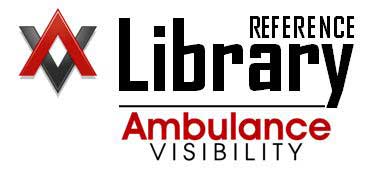 During the 1970's David Green provided significant conspicuity research input to emergency agencies in Australia. David has provided Ambulance Visibility with copies of his research papers and magazine articles for inclusion in the AV Reference Library where they are published together for the first time. Some documents may also appear under other subjects in the library.
David has kindly provided his work as both a historical reference and as summaries of the field as it was in the late 1970s.
A number of articles are from publications that are no longer in print and are provided for information.
If any copyright holders have any objection, please contact Ambulance Visibilty.

Please note that some PDF documents listed below are greater than 2Mb in size. These larger files are easily downloaded from the Ambulance Visibility document storage server at YouSendit.
Simply CLICK on any of the links shown below to either open the local PDF or be transferred to the remote YouSendit site – select the file name and then CLICK the download button to save the document in a folder on your computer.
---
Articles & Reports written by David Green
The Visual Safety of Ambulances
Green, David – NSW Department of Works, 1977
Emergency Vehicle Warning Systems and Identification
Green, David – NSW Department of Works, 1978 (includes 2011 preface)
Apparatus colour and response time
Green, David – Fire Fighting in Canada magazine, Aug/Sept 1978
Colour, warning systems and safer operation of fire appliances
Green, David – NSW Department of Works, 1977
Why are bushfire tankers red? Lime-yellow might be better!
Green, David – SITREP Vol 3, No 3 1978
Emergency vehicle warning systems and their identification
Green, David – Fire Protection magazine, October 1979
Australians cite reasons to endorse lime-yellow
Green, David – Fire Engineering magazine, January 1979
Colour and fire appliance safety
Green, David, – Fire Journal magazine, Vol 2, No 1 May 1978
Emergency vehicle visual safety
Green, David – Emergency magazine, Vol 1, No 12 1978
Matters of visual safety with particular regard to the colour of fire appliances
and the use of special warning lights
Green, David – NSW Firefighter magazine, December 1979
Uniformly Speaking
Green, David – NSW Firefighter magazine, June 1980
New South Wales firefighting uniform to go on trial
Green, David – NSW Firefighter magazine, June 1985
Uniformly Speaking
Green, David – Emergency magazine, October 1979
Medicos are off-colour
Green, David – Letters, The Daily Telegraph, 28 September 1998
Matters of Visual Safety with particular regard to the colour of fire appliances and the use of special marking lights
Submission to the South Australian Committee of Enquiry into Fire Services
Green, David – NSW Department of Works, 1979