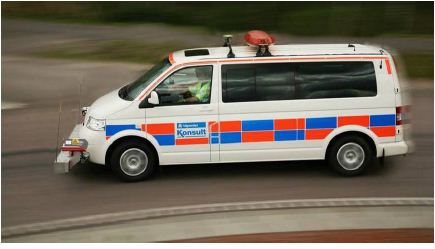 Swedish trial of Battenburg pattern on highway work vehicles
Forstarkt utmarkning av vaghallningsforden med SK Battenburg monster
Report written by Johan Granlund, Stefan Hedlof and Tommy Nilsson – May 2008
Road work is risky – Our vehicles have to be seen!
Road traffic accidents are high on the top of action lists as the "big killers" in Sweden, as well as in other industrialized countries.
International comparisons show that approximately 1-2% of all traffic accidents occur at road work sites, which consequently
have (relatively) more accidents than the roads without street maintenance. Nine out of ten fatalities in road accidents on
road work sites are road users, while "only" one in ten are road workers.
Swedish original version – PDF 1.3Mb
–
CLICK HERE
Forstarkt utmarkning av vaghallningsforden med SK Battenburg monster
Johan Granlund, Stefan Hedlof and Tommy Nilsson – May 2008
Reinforcement markings on road maintenance vehicles with UK Battenburg patterns. Evaluation of the speed reducing effect.
Johan Granlund, Stefan Hedlof and Tommy Nilsson – May 2008