Fluorescent Colours
Fluorescent colours appear brighter during daylight giving a high visual contrast for use in warning signs and on emergency vehicles and equipment. The colour pigments in these products are fluorescent when exposed to sunlight. The pigment absorbs energy in the near-ultraviolet and visible of the electromagnetic spectrum, then re-emits the energy as longer wavelength visible light. This light emissive property makes fluorescent signage brighter, of higher luminance and more colourful than ordinary traffic colours (Burns & Pavelka, p1).
---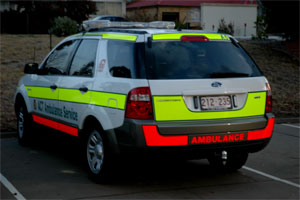 Example
This Ford Territory has high visibility fluorescent retroreflective livery. The picture has been taken in very low light at dusk. The marking material is Scotchlite Diamond Grade yellow-green and orange. The colours take on an almost ethereal glow as they retransmit the reflected UV wavelengths. The times of low-light during dawn and dusk where this effect reaches its maximum are exactly when emergency services need heightened levels of visibility.
---
Outdoor stability and colour fading has been a problem in the past,

but new research has improved the durability, giving a 7-10 year life. New combination films (3M Diamond Grade and Reflexite) combine retro-reflective microprism construction for night use combined with fluorescent colour for daytime with highly enhanced luminance values. Burns & Pavelka state that fluorescent objects are seen sooner and their colour is identifiable at greater distances, presenting an extremely high contrast against urban and rural backgrounds.
Solomon (p75) states that fluorescence is an asset during early morning, late afternoon and hazy conditions when UV light levels are high. Visibility is improved in fog, rain and smoke conditions. The probability of seeing fluorescent signs over long distances is two to three times that of standard signage. Fluorescent yellow-green retroreflective film is the ideal material for use on emergency vehicles.
---
The image at the right shows an ACT Ambulance sedan parked behind an ambulance and a support unit – both of these vehicles are in the old candy-stripe livery and are visually much closer and larger than the smaller sedan. Once your eye has located the yellow-green stripe on the sedan it keeps scanning back to the flourescent livery. If you try to look at the other vehicles which are much larger and more dominant in your field of view you will still keep returning to the sedan.
Notice that the yellow-green colour also takes your attention away from the high-visibility orange cones in front.
NOW
CLICK ON THE PHOTO

to see the effectiveness of fluorescent livery!
---
New studies have changed our thinking about how we react to fluorescent colours.
Over the last decade the general principle has been that humans notice fluorescent yellow-green because the maximum sensitivity of the human eye is centred on the yellow-green wavelengths (especially in the peripheries). The effect is most pronounced in yellow-green but there are other colours that can also fluoresce (red, orange & yellow). The effect has been explained by the LOOK NOW response as the conspicuous and intense colour is first detected over and above everything else in the visual environment. There may also be learning factors that amplify our response to these colours when they are seen. Certainly fluorescent colours are of greatest benefit when the observer is older than 40-50 years and has degenerative and age-related vision deficiencies.
3M Scotchlite & Diamond Grade Reflexite Daybright