About
---
ambulancevisibility.com and John Killeen
As I have discussed emergency vehicle research with people from different organisations from around

Australia

and overseas I came to realise that no common pipeline currently exists for the promotion and sharing of visibility information and research. This new Ambulance Visibility website and the quarterly E-Bulletin provide an opportunity to fill that communication void and make the rapidly increasing visibility & conspicuity knowledge base more accessible

The aims of the website and the E-Bulletin are:

To generate an informal clearing house, internet gateway and low-key forum for visual warning research (readers of the website & EBulletin should make their own value judgements about the information resources and linked documents)

To circulate information on new research & data resources as they become available.
Provide details of current, developing or new projects – thus helping researchers to find existing data, share their data or seek help from others with the production of their research. This may assist in opening new lines of communication from individuals or organisations that may be previously unknown to the initial group.
Provide a common point of contact and a path of introduction for researchers and emergency service personnel while respecting & maintaining individual privacy.
Please send any interesting new research links, project details, photographs, questions, comments or letters for publication on this website to john@ambulancevisibility.com
---
A short history
The early years in Queensland
– a reference map of Australia is provided below the text
In 1985 I moved from Canberra (Australia's national capital) to Yeppoon, a small coastal town near
Rockhampton in Central Queensland. I had come to the tropics to buy a beachfront caravan park.
The local Queensland Ambulance Transport Board (now Queensland Ambulance Service) in Yeppoon
were keen to have a volunteer Honorary Ambulance Officer to assist at the station and soon after my arrival they convinced me to sign-up. As I was self-employed and working on the coast, I could attend ambulance cases at short notice

.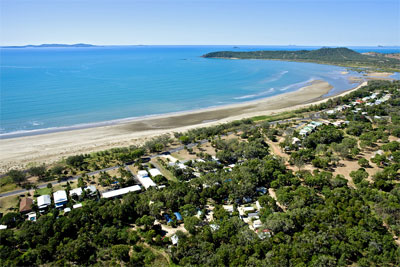 An ambulance on the beach
Over the next eight years I worked

alongside the Yeppoon Ambulance Officers (and often alone) on medical cases.
The caravan park was located mid-way between Yeppoon and the smaller town of Emu Park to the south, so an ambulance was usually garaged at home. It was during these years in Central Queensland, driving along narrow country
roads, that I began to think about how ambulances could be made more visible, especially at night.
In 1987 I flew to London for a holiday and during my visit bought a fluorescent Saturn Yellow rainjacket fitted with white encapsulated Reflexite tape. After returning to Yeppoon this jacket caused a "sensation" among everyone at accident scenes with many passing comments about the yellow-green colour and the astonishing brightness of the jacket in daylight & darkness. The seeds for future research had been sown!
ACT Ambulance, new research and the livery trials
Late in 1992 I sold the caravan park and lived overseas until returning to Canberra in 1994. I joined the ACT Ambulance Service in 1997 working as an on-road Intensive Care Paramedic and also as a member of the Operations Support Team.
During 1998-99 I set about researching a comprehensive report with the long title; The theoretical and practical aspects of visual warning methods in use on emergency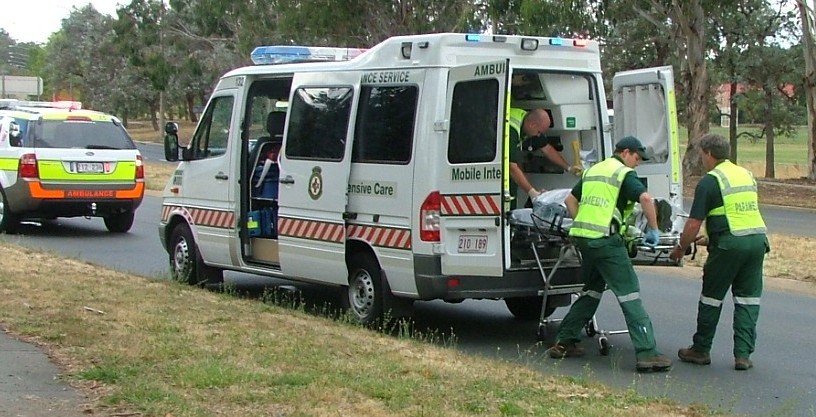 vehicles.
The purpose of this large report was to consolidate all the technical research available
at that time. The information was compiled into a document that was easy to understand
and concluded with simple recommendations
that could be adapted to everyday emergency
Since 1999 I have been highly active in the
visibility field, continuing to present the
findings
of the report at national conferences
and
seminars along with new research and
operational examples of emerging vehicle designs.
ACT Ambulance paramedics on-road in 2004 (John Killeen on right)
Visibility issues move ahead!
In 2004 I began working on the transition of
ACT Ambulance vehicles to a high-visibility
livery
and the trial of a new advanced LED warning light design that included amber lamps.
The year of 2005 in Australia was a watershed year for ambulance visibility issues. Following presentations at conferences and seminars this wave of interest continues to flow both
nationally within Australia and overseas.
At the same time, t

he Tasmanian Ambulance Service was examining the ACT vehicle designs and in 2006 Tasmania introduced a similar high-visibility livery onto their ambulance fleet.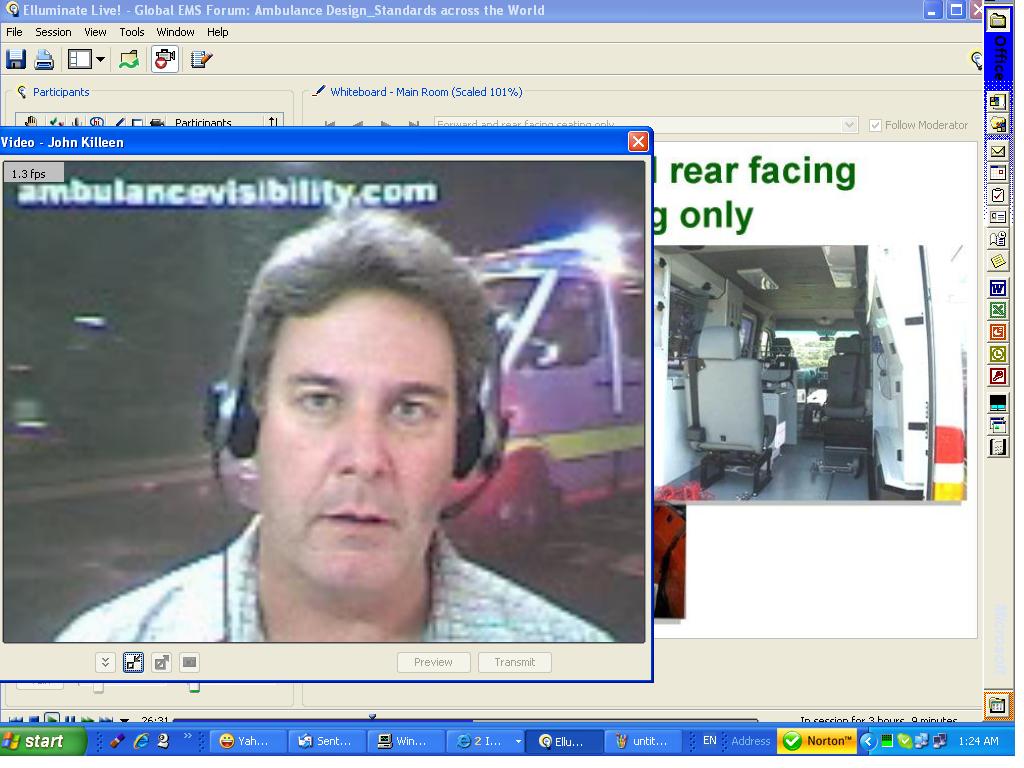 In October 2006 I was presented with
an ACT WorkCover Award for
my work on the ambulance fleet.
The presentation of the
award
generated
enormous interest here in
Australia and
other countries
following Australian newspaper articles and reprints
in trade journals. After
the ACT award
was announced I was nominated
as a finalist in the national
Safe Work Australia Awards held in early 2007.
More States come on-board
Over the last two years a number of Australian state ambulance services have been assessing the effectiveness of the
ACT Hi-Vis livery and the improved warning light design. Two
separate independent reviews of my report along with other current research were carried out in 2007. Several months after the reviews, Queensland Ambulance Service and the South Australian Ambulance Service changed their vehicle fleets to new improved visibility liveries.
Latest developments in new livery designs
After consultations earlier in 2007, the ACT Rural Fire Service redesigned their fire and command vehicle livery. The ACT Fire Brigade have adopted a similar livery for their dual cab utility vehicles earlier in 2008.
At the same time, Air Services Australia were examining different designs and in 2008 they adopted a new yellow-green body paint with fluorescent markings and are trialling synchronised warning beacons on their new airport fire appliances. These new Rosenbauer aviation fire appliances will be seen at Australian airports from April 2008. Also during this year, Summit County in Colorado USA have changed their livery to a fluorescent yellow colour to enhance the visibility of their vehicles, especially against the background of snow in winter. In 2010 Ambulance Visibility advised Muskoka EMS in Canada on a new fluorescent livery – See the Old vs New webpage
---