Siren Limitations
Ideal warning lights
The Role of Warning Lights
Light – Properties & Source types
Light colours
Ideal Livery model
Vehicle Body Colour
Fluorescent Colours
Reflective Materials
Old vs New Livery
Other Livery Updates
Key Conspicuity and Visibility Reports
Vehicle Colour
Fluorescent & Reflective Markings
Battenburg Markings
Chevrons
Warning lights
Amber/Steady Burn
Effects – Wake/Moth etc
Accidents and LBFTS
Sirens
Cognitive Conspicuity
DRL's
Motorcycle Conspicuity
David Green Collection
Author Lists
Clothing/PPE
ACT Ambulance Vehicles 
Other Australian agencies
ACT Ambulance Operations
Airservices Australia
International vehicles
Fleet Photos
SouthCare Helicopter
Individuals & organisations
Research & Report documents
Emergency Service Organisations
Suppliers


Ambulance, Police, Fire and Emergency Vehicle Conspicuity & Visibility Ambulance Visibility provides the latest research & technical information on emergency vehicle conspicuity, livery, high-visibility markings and warning lights that are currently under development by emergency service agencies throughout the world . This website includes the following resources:
Discussion pages with links to technical papers & other websites
A worldwide reference library of links to individuals, research organisations and resources including user-visible URL's
Current listing of links to Australian ambulance and emergency service organisation
Photo galleries of Australian emergency service vehicles in high-visibility livery
PowerPoints from conference presentations by John Killeen available as PDF downloads
PDF newsletter downloads
Multi-language translation using Google Translate
Above: ACT Intensive Care Ambulance – Photo by Lannon Harley
---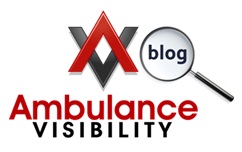 Read the Ambulance Visibility Blog Latest news & research articles with an opportunity to comment CLICK HERE The AV Reference Library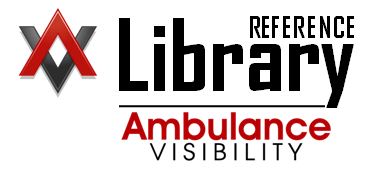 A convenient one stop resource accessing the latest research and documents. Comprehensive links & downloads to visibility/conspicuity documents & resources worldwide. Includes a large collection of previously unavailable PDF documents and articles including those from Australian researcher David Green. CLICK HERE – or by subject: INDEX    KEY RESEARCH    VEHICLE COLOUR    VEHICLE MARKINGS    BATTENBURG CHEVRONS    WARNING LIGHTS    AMBER/STEADY BURN LIGHTS    ACCIDENTS WAKE/MOTH EFFECT     DRL's   MOTORCYCLES    CLOTHING/PPE CONSPICUITY
---

Translate the AV website and BLOG Copy the browser URL address, click HERE or the icon and PASTE the URL into Google translate Most HTML (non-Flash) externally linked sites will also be in the translation language.
Renovate your markings – see our success stories Images with details explaining the changes undertaken by various emergency organisations following advice or consultation from John Killeen and Ambulance Visibility – CLICK HERE Where do I start? Try this…..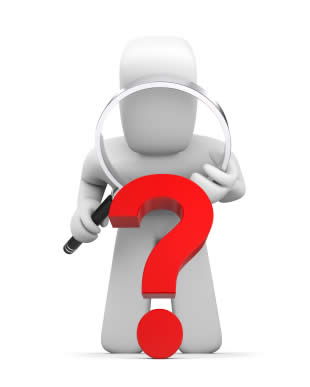 1. First, look at the information shown below on the Home page & BLOG 2. Next, goto the images of OLD vs NEW vehicle markings – CLICK HERE and then move onto the latest News and the pages below + others 3. Livery and Markings – CLICK HERE 4. Warning lights – CLICK HERE 5. Downloads, PowerPoints & information – CLICK HERE 6. Check out the AV Reference Library – CLICK HERE

Site updated – 18 June 2016
---
Current Issues & Information
---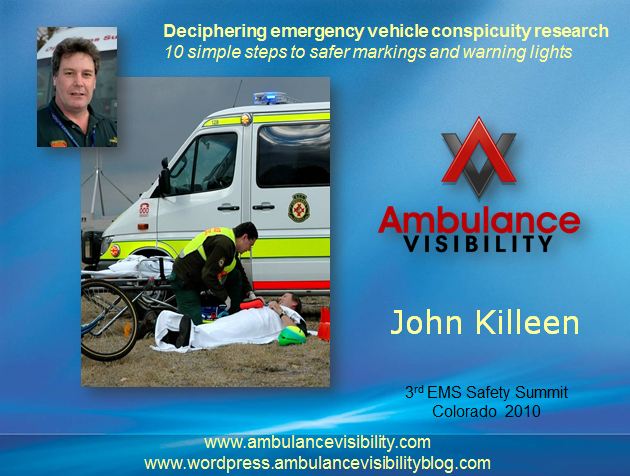 Visibility & Conspicuity Presentation by John Killeen 3rd Annual EMS Safety Summit, Denver Colorado 13-15 October 2010 Available on the Downloads page The trip to Colorado for the presentation was generously sponsored by American Medical Response in conjunction with the Colorado Department of Public Health and Environment, the SEMTAC Transportation Safety Sub-Committee and the Mile-High RETAC organisation. Special thanks to Sean Caffrey (CDPHE), Shirley Terry (MH-RETAC) and Ron Thackery (AMR) for their assistance and support over the week of the conference. If you attended the supplementary AMR presentation webinar on 3 Nov 2010 please email for the download link.
---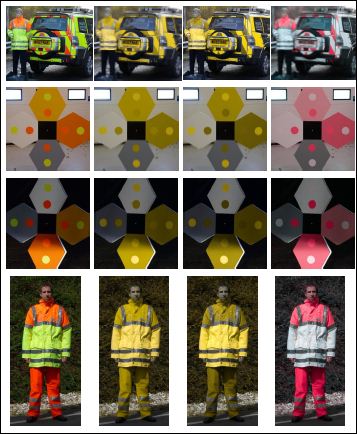 Roadworker Conspicuity – Daytime & Nightime – NEW! S. Helman and M. Palmer from TRL released this report for the UK Highways Agency in late 2010. This recent report interviews road workers to gauge their expectations of High-Visibility retroreflective garments and then goes on to survey a large number of participants under realistic test conditions. The study demonstrates that some Hi-Viz safety colours viewed in proximity to response vehicles and against different types of background clutter may have much shorter detection distances than shown previously. In particular this shortfall occurs at night where some visual detection distances can fall to as low as 25 – 45 meters at the roadside. Make sure you read this important new research – CLICK HERE Also the Roadworker conspicuity briefing note – CLICK HERE Please note: These links have now been updated to the revised Highways Agency URL after the HA changed their website (11 Feb 2013)
---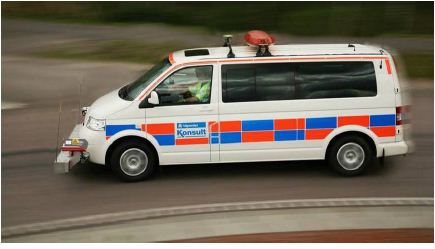 Swedish trial of enhanced Battenburg markings on highway work vehicles The original report was written by Johan Granlund, Stefan Hedlof and Tommy Nilsson in May 2008 and has been translated into english for the first time by Johan & John Killeen. Read about the trial in Swedish or English – CLICK HERE In Swedish – Forstarkt utmarkning av vaghallningsforden med SK Battenburg monster
---

David Green's conspicuity research and articles available together in the AV Reference Library During the 1970's David Green provided significant conspicuity research input to emergency agencies in Australia. David has kindly provided copies of his research papers and magazine articles for inclusion in the new AV Reference Library where they are published together for the first time. Read all of David's work – CLICK HERE
---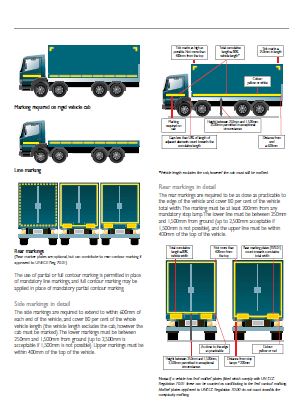 Application of Retro Reflective Conspicuity Markings to Heavy Vehicles This compliance guide for Conspicuity Markings to Heavy Vehicles was released in February 2011 by the Freight Transport Association in the UK and clearly outlines the new UN ECE conspicuity markings required by the European Union agreements. This is a concise document that illustrates the minimum coverage required for civilian vehicle conspicuity. The new regulations do not require full outline contour markings on the upper side surfaces of the vehicle but a full contour marking set remains essential for all emergency vehicles. The advantages of fluorescent/reflective materials are strongly reinforced, especially the superiority of a solid band of fluorescent colour rather than the red/white alternating pattern found within the US NHTSA conspicuity regulations for trucks. The Canadian Study linked below demonstrates the superiority of a single flourescent colour under different weather conditions Read the UK Goods Vehicle guidelines – CLICK HERE Read the Canadian Effectiveness of Heavy Truck Conspicuity Treatments – CLICK HERE
---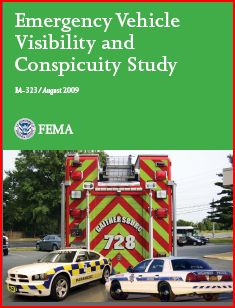 Emergency vehicle visibility and conspicuity study FEMA report released August 2009 To read the report – CLICK HERE Read a brief synopsis of the FEMA report presented to the EMS Safety Foundation by John Killeen – CLICK HERE
---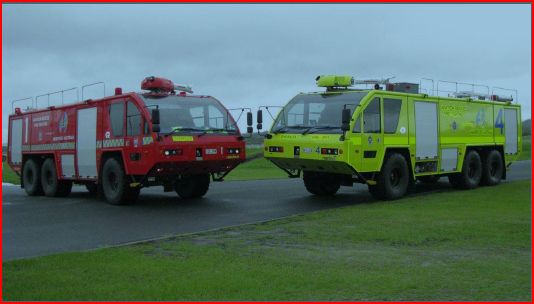 Airservices Australia (ARFF) Aviation Fire Vehicle Conspicuity Images Comparison photos of yellow-green and red fire vehicles under airfield viewing conditions To read the comparison – CLICK HERE Reproduced with the permission of Mark Parsons, Bruce England & Simon Grafton, Airservices Australia
---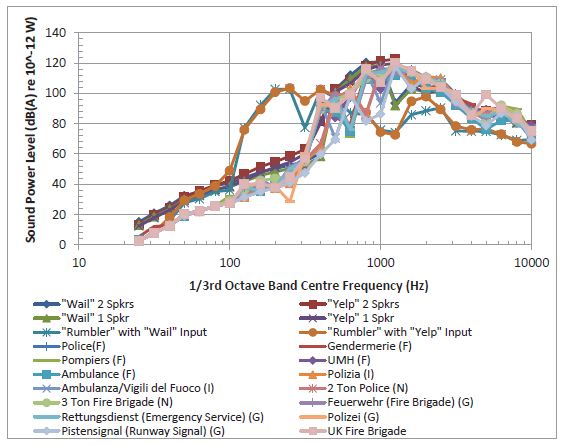 Accoustic characteristics for effective ambulance sirens Carl Q. Howard, Aaron J. Maddern and Elefterios P. Privopoulos School of Mechanical Engineering, The University of Adelaide, Adelaide, South Australia This report published last year has a comprehensive comparison between an Australian siren mounted on a South Australian ambulance and   other types (including Rumblers) from around the world. A major confirmation in testing was the dramatic drop-off of 12db at 90 degrees to the forward axis. Subjectively this means the siren is less than half as loud out to the sides of the vehicle – this is a particularly important point when crossing intersections. Read more – Accoustics Australia – Volume 39 August 2011 PDF – CLICK HERE More information – Sirens in the AV Reference Library – CLICK HERE
---
Ambulance Visibility supports NETS NSW/ACT with on-going sponsorship and technical advice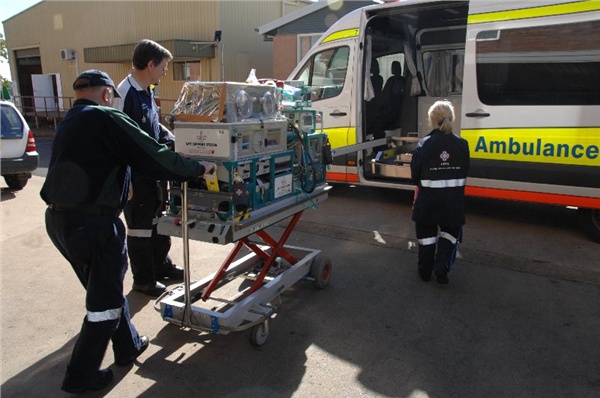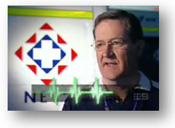 The NETS teams are based in Sydney and service regional New South Wales/ACT by operating from stations located in the major country centres. NETS provides emergency intensive care for newborns and children Read more about NETS – CLICK HERE View the NETS videos – CLICK HERE
---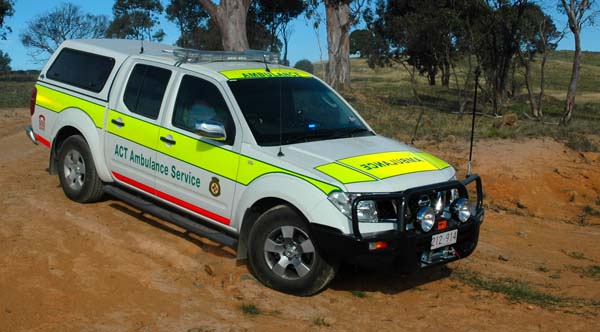 ACT Ambulance Intensive Care Paramedic Navara 4WD with high visibility livery Ambulance Visibility – ambulancevisibility.com
Questions, comments and feedback are welcomed

Please select the

CONTACT

tab for details